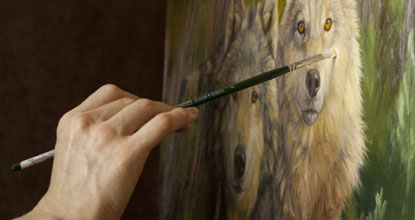 Artist Statement
As long as I can remember, I have always loved to create. Art fills me with tremendous joy and satisfaction.
To me, art is a way to communicate with beauty my vision of the human spirit, animals and the world around us.
My goal in each painting is to encourage the viewer to participate in my artwork, by looking at the painting and imagining what the subject is thinking, or by simply creating a pleasant emotional response with the aesthetics of the painting.
I enjoy adding more beauty to this world.
Lucie Bilodeau, Artist
About The Artist
Lucie Bilodeau was born in May,1967. Canadian by birth, she now lives with her husband in the United States, in Massachusetts, where she paints full-time.
Her interest in art started at the age of 7. At 14, she became a student of Mission: Renaissance School in Montreal, Canada, to be taught the traditional fine art skills. There she took a series of 6 courses. Among these was an in depth study of the masters: Rembrandt, Monet, Manet, Cezanne and Fantin Latour.
Ms. Bilodeau has distinguished herself by competing for 6 years in the "Cercle des Artistes Peintres du Quebec National visual art competitions". >> READ MORE HERE